Having an accurate after repair value (ARV) is crucial for making offers to purchase properties as well as for the calculation of profits. Zilculator makes it easy to view recent sales comps for properties in the US and their average sale price. It also estimates a projected ARV of the property you are analyzing based on its living area. You can also include the Comparative Market Analysis (CMA) in your reports and lender presentations.
Note: This feature is available to our Pro and Premium users. Comparables are loaded automatically only in the United States.
1. Open CMA module
There are two ways available to open the CMA widget.
If you want to estimate an After Repair Value for a property you are adding, click the Estimate ARV button in the Property form.
If you are adding comps to an existing property, go to its report, scroll to the Comparative Market Analysis and click the Add comps button.

2. View recent comparable sales
If your property is located in the US, Zilculator will search Zillow® and other data sources to load comps automatically. You will be presented with a list of up to 20 recent sales comps, including their address, description, distance, and sale information ordered by their Similarity score.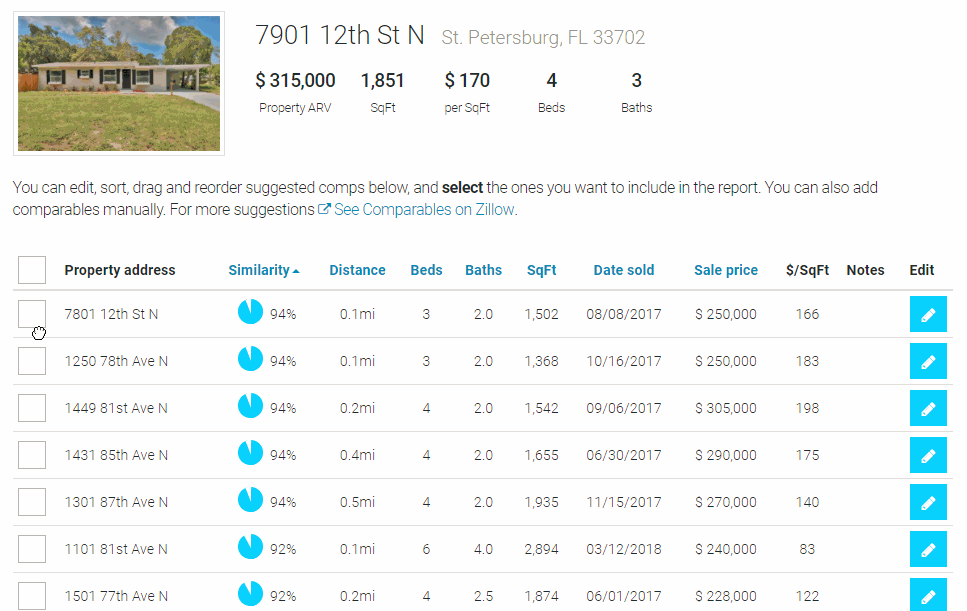 You can re-order the comps by dragging them, editing them or adding notes by clicking the Edit button on the right. Select the most relevant comps by clicking the checkbox on the left.
You can also add comparables manually by clicking the Add comparable button or check the Redfin® comps Zilculator preselected for you.
3. Estimate ARV
Once you selected the most relevant comps, you will see their average sale price and average price per sqft. Zilculator also estimates an ARV of the subject property based on its living area and the average price per square foot of the selected comps. You can use this projected ARV in your analysis.
What's next?
Learn about more things that you can do with the property:
Analyze a rental property
Analyze a fix and flip property
Analyze a wholesale property