You may want to share property information, photos, and the analysis report that you created with other people.
Our professional property reports are perfect when you are:
Sending to your lenders during a loan approval process
Sharing with your partners or investors who are interested in one of your deals
A wholesaler - emailing them to your buyer's list
An agent or broker - sending them to your investor clients or handing them out during open houses
1. Add custom branding
If you are a Pro or Premium user, make your reports look professional with your own logo and contact details. You can add your branding in your Profile settings. Learn more in this article.
2. Open and customize the report
Navigate to your Properties page and open the report. Next, you can either select one of the report preset configurations,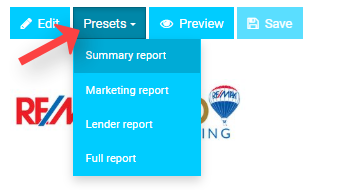 or you can customize the report contents by clicking toggle buttons for each section:

Note: After you have customized the report, you have to save the changes before sharing it.
3. Preview report (optional)
You can check how the report will look to others by clicking the Preview button.
4. Share report
To share your report, select Share in the drop-down and click one of the options. You can either:
Send the report by email
Copy the link to the online report
Share on one of the social networks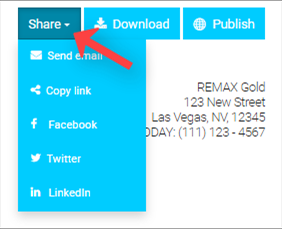 5. Download PDF report
You can download a professional-looking PDF report by clicking the download button. It takes a few seconds for the report to generate and, then, it will be saved into your local Downloads directory. The PDF report will also have your branding added. You can, then, print the document or share it by email.
What's next?
Depending on your subscription, you can also publish the report to your property inventory page or to the Zilculator Marketplace: